Gelatine has demonstrated its versatility in applications for the pharmaceutical industry and medicine – be it in the production of capsules or tablets or as a constituent of wound dressings, haemostatic sponges or blood volume substitutes.
Raw material for the pharmaceutical industry
Gelatine is an important raw material for the production of hard and soft capsules as well as film-coated and effervescent tablets. Manufacturers make use of its unique adhesive, gelling and film-building properties. Orally administered medicines and dietary supplements in particular are protected by gelatine-containing capsules or tablets from light, moisture and oxygen and given a long shelf life.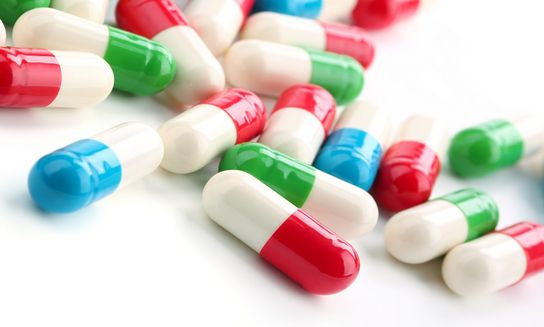 Lifesavers in medicine
Consumers benefit by safe dosage and convenient ingestion because capsules and tablets coated with gelatine are easier to swallow. Also important is that gelatine has practically no allergenic potential and, as a natural product, is well tolerated.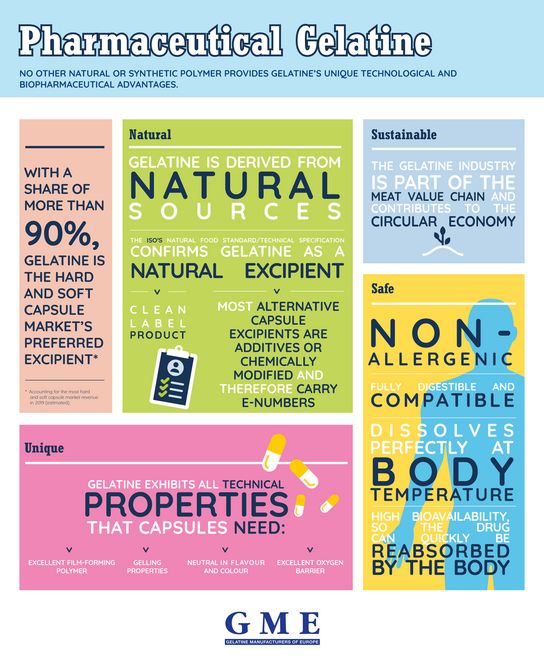 Lifesavers in medicine
In emergency medicine, gelatine is used as a raw material for the manufacture of blood substitutes, such as plasma expanders. These increase the amount of fluid in circulation, preventing hypovolemic shock. As local haemostatic agents, gelatine sponges and films have long been used in the surgical field (for example in oral cavity and ophthalmological surgery, urology or gynaecology) and for the treatment of wounds in dental surgery. The structural composition of the gelatine sponges enables the absorption of large amounts of blood and makes it possible for new tissue to grow into the sponges. Since it only takes a few days for the body to completely resorb the sponges or films, they can be left in the wound without any negative effects.
Safety
Gelatine used in pharmaceutical applications must meet additional requirements that have been defined in special regulations. These stipulate that pharmaceutical-grade gelatine must meet both the prevailing requirements for edible gelatine as well as the provisions for medicinal products. The European Pharmacopoeia lists further specific requirements for the manufacture of pharmaceutical-grade gelatine as well as for the physical, chemical and microbiological quality attributes of the finished product. Furthermore, gelatine intended for the pharmaceutical industry must undergo certification through the EDQM (European Directorate for the Quality of Medicines & HealthCare).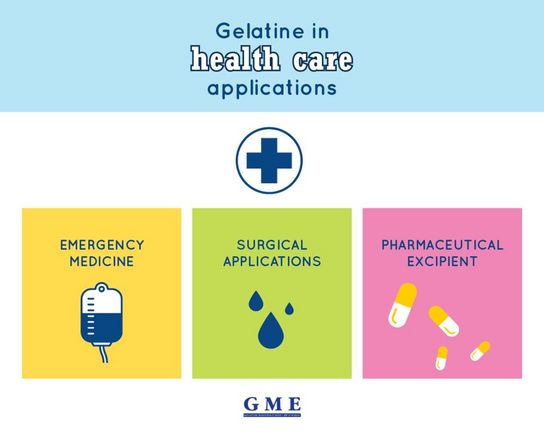 Emergency medicine

Gelatine is used as a starting material for the production of blood substitutes such as plasma expanders. These are liquid pharmaceutical products containing gelatine and mineral salts. They help to stabilise the circulatory system in times of blood or plasma loss, as for example during an operation.

Surgical applications

Gelatine sponges and films have a long history in the surgical field. As local haemostatic agents, they enable the absorption of blood and also promote wound healing by allowing new tissue to grow into the gelatine product.

Pharmaceutical excipient

In pharmaceutical technology gelatine acts as a binding agent in the wet granulation of powder blends or as a bulking agent for oily products. Hard and soft capsules are the most important areas of application.