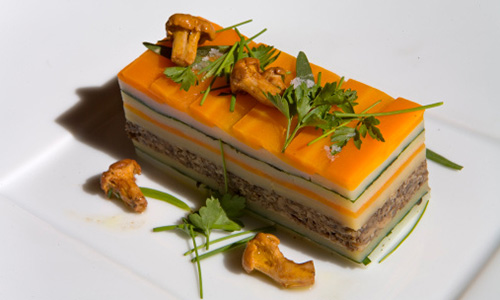 Chanterelle mushrooms – the golden yellow fruit of the forest floor
Preparation time (wihtout cooling time):
P

in it
Ingredients for approx. 12 servings:
10 white gelatine sheets or approx. 16g powder gelatine (please follow the instructions given by the manufacturer)

Carrots:
2 large, thick carrots 3 strips of organic lemon zest
Sea salt
Spinach:
100 g tender young leaf spinachSea salt
Ice water
For the mushroom farce:
10 g dried chanterelles100 g chanterelles
100 g chestnut mushrooms
1 shallot
2 tbsp oil
Sea salt, freshly ground pepper
For the cream layer:
100 ml cream2 tbsp dry vermouth (e.g. Noilly Prat)
1 level tsp fennel seeds
1 pinch sea salt
150 g goat cream cheese, 8% fat
250 g crème fraîche
Freshly ground pepper
Preparation:
Place gelatine sheets individually into a large bowl of cold water, making sure that the sheets do not stick together. Soak gelatine for 5 minutes.
Peel and clean carrots. Cut off a thicker slice of carrot lengthwise and then cut this into (8-10) thin, even slices. Chop leftover carrot into small pieces. Pour a small amount of water into a pot with lemon zest and sea salt. First add about 100 g of the leftover carrot, then place the carrot slices on top of this. Cook for approx. 10-15 minutes. Remove carrot slices a bit earlier to ensure that they remain tender-crisp. Finely purée leftover carrot with 1 tbsp of carrot stock. Squeeze out 2 gelatine sheets and dissolve in the hot carrot purée. Refrigerate until the purée just begins to gel. Set aside carrot stock for later use.
Thoroughly wash and sort spinach. Pour a very small amount of water into a pan. Add 1 pinch of sea salt. Add spinach leaves individually and briefly boil until soft. Place into a large bowl of ice water. Remove spinach leaves, spreading them out onto a dishcloth to drain.
For the mushroom farce, soak dried chanterelles covered in water. Clean and wash fresh chanterelles and chestnut mushrooms. Coarsely chop mushrooms and place them into an electric food chopper. Drain and add dried mushrooms. Mix everything, but not too finely. Peel and finely dice shallot. Heat oil in a pan. Sauté shallot in oil. Add mushroom mixture and briefly sear on a high heat, stirring constantly. Season with sea salt and pepper. Lightly squeeze out 2 gelatine sheets and dissolve in the hot mushroom mixture, stirring constantly. Let cool.
For the cream layer, simmer the cream with vermouth, fennel seeds and 1 pinch of sea salt for approx. 10 minutes, reducing liquid by half. Pass cream through a sieve. Squeeze out 4 gelatine sheets and dissolve in the hot cream. Stir in goat cream cheese and crème fraîche. Season with salt and pepper.
Line a square mould (approx. 15 x 22 cm) with plastic wrap. Add the prepared ingredients and mixtures in layers as shown on the photo. Make sure to let each layer set slightly in the refrigerator before adding the next. Add carrot strips as the uppermost layer. Heat 2 tbsp of carrot stock and dissolve 2 white gelatine sheets in it. Let cool and slightly gel. Using a brush, lightly coat carrot slices with the stock. Chill terrine for another 2-3 hours.
Remove terrine from the mould with the help of the plastic wrap. Remove plastic wrap. Cut terrine into slices with a sharp knife.
Optionally garnish each slice with fresh herbs and chanterelle mushrooms before serving.
Click here for more information on cooking and baking with gelatine.
Nutritional values per person approx.:
Calories: 147
Joules: 615
Protein: 3.5 g
Fat: 13.8 g
Carbohydrates: 2 g
Subtle scent and peppery flavour
Together with the button mushroom, the chanterelle is the most commonly known edible mushroom and enjoys great popularity amongst connoisseurs the world over. Its whitish flesh is somewhat acidic when eaten raw; cooked, however, it is quite delicious. Its smell is often described as fruity, aromatic, peppery or powerful. Its egg-yolk to golden yellow colour makes the chanterelle easy to recognise. The mushroom, also known as golden chanterelle or girolle, is on average 2 to 9 centimetres high. The distinguishing features of the chanterelle are the shape and colour of its cap and a stem that begins rounded and then tapers funnel-like. The season for fresh chanterelles begins in the summer – usually in June, depending upon the amount of rainfall – and the yellow fruits of the forest floor may be available fresh at farmer's markets or supermarkets into November, weather permitting. Mushroom hunters will be most successful in well-established, mostly undisturbed coniferous or deciduous forests. Moreover, the chanterelle is considered to be a "loyal" mushroom because it always grows in the same place. The chanterelle can be found in Australia, South America, North Asia, North America and Europe. Supermarkets or markets primarily sell chanterelles harvested in Eastern Europe.
Those buying chanterelles should take a very close look: the mushrooms should be dry and look fresh. Withered stem ends are a sign that the mushrooms have been stored for a longer period of time. The caps should be undamaged. Fresh mushrooms are best prepared immediately after picking or purchasing. Cleaning the mushrooms is a somewhat laborious task. However, in the end, the reward is a mildly spicy flavour that compliments both pasta and meat dishes. Chanterelles are also perfect for use in farces: they add a subtle flavour to our terrine and, combined with spinach and goat cream cheese, their peppery flavour is shown to its best advantage.

Lots of success in preparing the recipe and bon appétit!