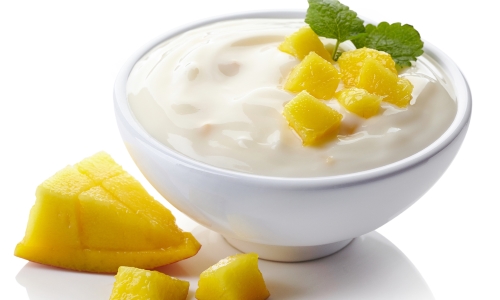 Coconut cream on mango slices with cherry sauce
Preparation time (not including cooling time):
P

in it
Ingredients for 4 persons:
Flesh of a fresh coconut
400 ml milk
2 tbsp. honey
2 tbsp. sugar
6 leaves of white gelatine
200 ml cream
250 ml cherry juice
2 cl cherry liqueur
Pinch of cinnamon
1 tsp. cornflour
1-2 mangos
Icing sugar as decoration
Preparation:
Set aside a medium-sized piece of the coconut flesh; remove the brown skin from the remainder of the coconut. Chop the peeled coconut pieces in small portions in a food processor.
Add 200 ml of milk, by the spoonful. Heat gently with honey, sugar and the remaining milk (do not allow to boil).
Remove from the heat, allow to settle. Line a sieve with a cloth, place a bowl under the sieve and pour in the coconut mixture, collect the coconut milk. Squeeze all the liquid out of the coconut mixture. Soften the gelatine, squeeze well and dissolve with 4 tbsp. of the coconut milk. Gradually add the remaining coconut milk, leave to cool. Whip the cream until semi-stiff, then fold in to the gelling coconut cream. Divide the mixture into 4 portions in individual moulds, allow to cool for ca. 4 hours. Warm the cherry juice, add the liqueur and cinnamon, stir in the cornflour and allow to cool.
Peel the mangos and cut into slices. Remove brown skin from the remaining piece of coconut and cut into strips. Dip the moulds in hot water and turn the coconut creams out onto plates. Garnish with mangos and cherry sauce. Sprinkle with icing sugar. May also be served with biscuits.
– Kathrin Prazcyk, Germany