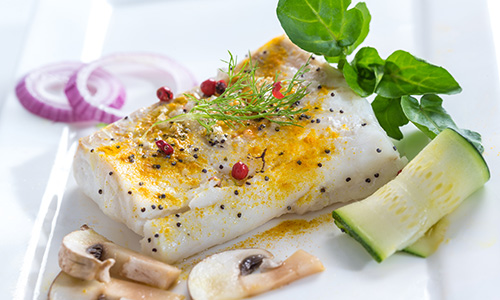 Lake constance whitefish in a zucchini coat with balsamic cherries
Preparation time+ cooling time:
P

in it
Ingredients for ca. 10 portions:
250 g zucchini
Salt
20 g gelatine
1 shallot
2 tbsp olive oil
80 g horseradish, grated
50 ml white wine
500 ml cream
Pepper, freshly ground
400 g smoked Lake Constance whitefish
For the balsamic cherries
50 g brown sugar
300 g cherries, pitted
100 ml red wine
50 ml balsamic vinegar
For the zucchini flowers
10 zucchini flowers
Salt, pepper
2 tbsp olive oil
Preparation:
Wash the zucchini, remove the stalks/tops, and cut into thin strips using a peeler. Blanche briefly in boiling salted water. Line an oblong-shaped terrine dish (ca. 1 litre) with cling film, then line this with 3/4 of the zucchini strips. Leave to cool.
Soften the gelatine in lukewarm water. Peel and finely chop the shallot. Heat the olive oil and gently fry the chopped shallot. Add the horseradish and wine, mix together and leave to cool. Squeeze out the gelatine carefully and fold into the mixture. Place the pan over a cold water bath and stir the mixture until cold.
Whip the cream until stiff and fold into the cold onion-horseradish mixture. Season to taste with salt and pepper. Pour the mixture into the terrine dish, position the pieces of fish in the mixture and finish by laying the remaining zucchini strips on top. Cover the terrine form with cling film and place in the refrigerator to cool for approx. 5 hours.
For the balsamic cherries, caramelise the sugar in a pan while stirring continuously. Add the cherries and allow to "sweat" for approx. 3 mins. Add the red wine and balsamic vinegar, briefly allow the mixture to gently simmer.
Carefully wash the zucchini flowers if necessary. Mix together the salt, pepper and olive oil and sprinkle over the flowers. Turn out the terrine and cut into slices. Arrange the slices on a plate and decorate with balsamic cherries and a zucchini flower.
Click here for more information on cooking and baking with gelatine.
– Petra Zöllner, Germany
Nutritional values per person approx.:
Calories: 215
Protein: 2 g
Fat: 17 g
Carbohydrates: 11 g