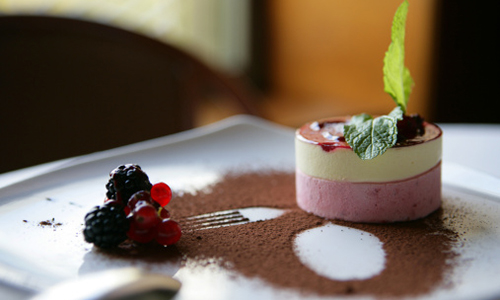 Strawberry – Sweet Woodruff - Layered Dessert
Preparation time (not including waiting periods):
P

in it
Ingredients for 4 servings:
6 gelatine sheets or 9 g powdered gelatine (please follow manufacturer's instructions)
150 g strawberries
100 g + 1 tsp sugar
2 tbsp lime juice
75 ml red currant juice
250 g cream
1 packet of vanilla sugar
100 ml white wine
2 tbsp sweet woodruff syrup
150 g blackberries
In addition:
Cocoa for dusting
fresh fruit and peppermint as a garnish
4 dessert rings (at 8 cm ø)
Preparation:
Soak 3 gelatine sheets in water. In the meantime, clean, wash and chop strawberries until somewhat smaller. Purée with 50 g sugar and lime juice. Heat red currant juice. Squeeze out gelatine, dissolve in juice and stir into the purée. Refrigerate until it just begins to set.
Whip cream with vanilla sugar until very stiff. Fold half of the cream into the strawberry purée. Place dessert rings onto suitable plates. Fill halfway with the cream and refrigerate.
In the meantime, soak remaining 3 gelatine sheets in water. Heat white wine, 50 g sugar and sweet woodruff syrup. Squeeze out gelatine and dissolve in wine mixture. Refrigerate until it just begins to set. Fold in remaining whipped cream and spread onto the strawberry layer. Refrigerate again.
In the meantime, heat blackberries and 1 teaspoon of sugar, pass through a sieve and let cool.
Carefully remove dessert rings. Drizzle with blackberry purée. Place dessert cutlery on plates. Dust everything with cocoa, remove cutlery.
Serve with a garnish of fresh fruit and peppermint.
Click here for more information on cooking and baking with gelatine.
Approx. nutrition facts per serving:
Calories: 386
Joules: 1617
Protein: 5.0 g
Fat: 19.3 g
Carbohydrates: 42,5 g
Firm, glossy and red, they tempt us into taking a bite: strawberries
For many, the first strawberries of the year mark the quintessential beginning of the warm season. From May to July, the small fruit invites us to get creative. Besides the pure pleasure of enjoying them with vanilla ice cream or whipped cream, it is effortlessly simple to make delicious jams, cakes, milkshakes and desserts.
Strawberries may already have sweetened the everyday life of humans during the Stone Age, but, at the very latest, certainly did so in Antiquity. During the Middle Ages, they were cultivated on a large scale and today's garden strawberry, which has the botanical name Fragaria ananassa, has also been around for a long time: It originated around 1750 from a cross between various wild forms.
Strawberries, by the way, are not really berries, but what are known as aggregate fruits. The red part is only a pseudocarp; the small, hard dots on the strawberry are the actual fruits. But no matter: the red blockbusters like to play a leading role during the summer. With only 32 calories per 100 grams and 65 milligrams of vitamin C - more vitamin C than in any citrus fruit - they provide light, healthy enjoyment. Our tip: get regional and seasonal strawberries! In this ingenious dessert, strawberries play a leading role together with sweet woodruff and cocoa.
Lots of success and lots of fun in giving our recipe a try!